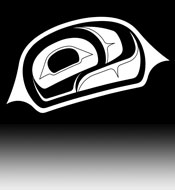 Nathaniel P. Wilkerson





Nathaniel P. Wilkerson - Gitxsan Artist

"Native American Art from the Pacific Northwest"




"The native artwork of the pacific northwest is very much alive and thriving. Each artist must familiarize himself with the great works of the past and then find his own style within this tradition. Some of us choose a more traditional approach while others blend western styles and mediums. I prefer a more classical approach in my artwork with heavier form lines and a look that is both Haida and Tsimshian.


---

What is the Indian way and what is the European way? I agree there are some things about the capitalistic society that we live in that I strongly disagree with. The greed and "Every Man for Himself" attitude is why the economy is where it's at today. The honor and redistribution of wealth associated with our traditional potlatching is one thing we had right. The white man took this away with the banning of the potlatch in 1884, in an effort to not only destroy the culture but also eliminate the artwork and the caste system that went with it. We live in the 21st century, we cannot return entirely to the old ways, it is not possible.

What we can do is forge a new way involving old traditions, our culture, arts and a progressive educational and employment system for our people. Living on handouts from the government is also not the Indian way nor a long term solution to our problems; it degrades our moral and turns us into nothing but a pet project for the federal government.

We must return to honor and become a self sufficient, strong people, with our identity, lands and sovereignty restored."

- Nathaniel P. Wilkerson



Phone: 425-741-5555

Email: Nathan@WilkersonArt.com